Brian Froud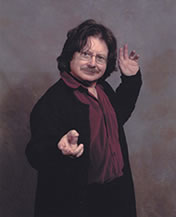 Brian Froud irrompe nel panorama internazionale dell'illustrazione fantasy verso la fine degli anni '70, lavorando come conceptual designer nei film THE DARK CRISTAL e LABYRINTH.
Ben noti sono anche i suoi best-seller L
ady Cottington's Pressed Fairy Book, Good Faeries / Bad Faeries E The Faeries' Oracle.
Lavori più recenti sono Lady Cottington's Fairy Album, l'edizione del 25° anniversario di Faeries, con nuove illustrazioni di Brian Froud ed Alan Lee; l'edizione del 20° anniversario di The World Of Dark Crystal, che include illustrazioni mai viste prima ed una nuova introduzione di Brian; The Runes Of Elfland e Goblin! con testi del poeta Ari Berk.
Dal 2002 Imaginosis organizza il Faerieworlds Festival, interamente ispirato al mondo di Froud. Brian attualmente sta lavorando al seguito di The Dark Crystal, nonché ad un film d'animazione basato sul suo libro Goblins!
Gli incontri con BRIAN FROUD
tutti i giorni allo Stand G5 Imaginosis
>> Per i suoi meeting vedi il Programma della Sala Incontri